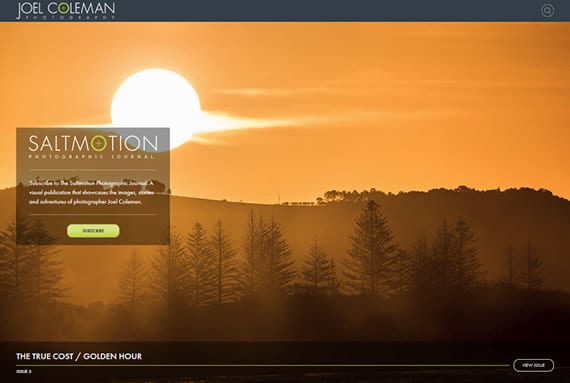 Here at WordPress Development Sydney we love a challenge, so when one of our favourite clients came to us with a new concept for a project he was working on we were super excited.
Our client is one of the best ocean photographers in the world and wanted a way to present his photography in a new and more engaging way. He would often go on trips to unusual and amazing places and felt that he needed the facility to tell a story and express it with his photographs.
He came up with the concept of a journal, somewhere he could tell his stories and use the power of photography to highlight and support those stories. He wanted a simple yet engaging and interactive website that worked across all devices, allowed for large full screen images and also integrated into his new online store.
Now there's a challenge!
Making it work
We looked at various plugins available and other sites that had similar functionality but nothing was quite right. We worked with the client to develop a concept that worked for him and was technically feasible (we hoped!) within WordPress.
He also needed a more visual way of creating the content, so he could see the structure and layout in the WordPress back end rather than just using shortcodes or HTML structure within the editor window. He also needed a way to flag images in different ways to allow for lightboxes, full width images and images that would link to purchase options in the new online store.
Again all of this has to work across all devices and load fast enough to keep engagement on the site.
The team put together a proof of concept utilising some visual editor plugins combined with custom classes and coding to allow the client to create a visual grid structure within the back end that represented the layout on the front end. This also would allow staff within the shop to create the journal entries while he was overseas without having to know any code.
The concept was refined and then tested across multiple platforms and devices and some very challenging issues in terms of layout and performance overcome to deliver the final result.
The final result
The final result is a beautiful, simple, responsive solution that fits the client brief and has received extremely positive feedback from his followers. We had to overcome some major technical challenges and make the site perform well enough to deal with regular large spikes in traffic.
This is another great example of how WordPress is an extremely customisable and flexible platform to build a wide range of exciting and dynamic websites on.
Check out the site at http://www.saltmotion.com/journal
Do you have an interesting project you want to discuss? Give us a call today on (02) 8097 7957 today!