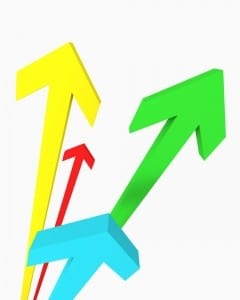 There is no point in having a website if it sits in the backwaters of Google and no-one ever finds it. There are plenty of strategies you can put in place to generate more traffic, including paid and unpaid marketing plans, but many of them are complicated and need expert knowledge.
So here are 6 easy things you can do this weekend on your website, which won't cost you a cent, but will help to increase your traffic and rankings in Google.
1. Create an XML sitemap
Search engines like a sitemap, because the bots can crawl it to gain an understanding of your website. With this increased knowledge of your websites' structure, your web pages can be presented in the search engine results pages (serps) for relevant search queries. This increases your rankings and the traffic to your web pages accordingly. So install an XML sitemap plugin this weekend.
Recommended plugin - Yoast SEO - This is not only one of the best SEO plugins but also creates awesome sitemaps as well!
2. Sort out your Metadata
Did you know that a while ago Google changed the maximum number of characters it shows in the page title to approximately 55 characters? This probably means a lot of your page titles are truncated and showing ... at the end. Now might be the time to review those titles and meta descriptions to ensure they are displaying correctly and pack some punch, remember these are often the first piece of marketing people see! Make sure your titles and descriptions are front loaded with your primary keywords.
Recommended plugin - Yoast SEO
2. Sort out your sidebar
You don't want to confuse your visitors with a cluttered sidebar and loads of different widgets and flashing ads. So decide what you really need in your sidebar and put the rest somewhere else (like in footer widgets) or just get rid of it! This will leave your sidebar clear for the important stuff – like an email subscribe box and your contact details. So unclutter your sidebar this weekend and install an email subscribe box.
Recommended plugin - Mailchimp for WordPress
3. Fix up your internal links
Google likes to see themed websites with relevant content and categories. So if you have lots of pages or posts without any logical internal links, then that's your job this weekend. Take a look at your site structure and create internal links between your pages and posts that are related. Not only does this give the search bots something to follow it may also entice your website visitors to keep clicking. While you are at it make sure you do not have any broken links or images on your site to make sure your site is in tip top shape.
Recommended plugin - Broken Link Checker
4. Do you use images for your headings?
Many people have used images as their headers on both pages and posts, but the problem is that the search engines can't really read images. Don't worry if you use image headers, just be sure to use your alt tags and include a proper heading title above or below the image as well. With the advance in support for Web Fonts maybe now is the time to loose those fancy image headers and go for a funky font instead?
Recommended resource - Google Web Fonts
5. Find all duplicate content
Search engines don't like duplicate content and this is one sure way of getting a nasty penalty from the search engines. Content gets flagged as duplicate when it is significantly the same as content on another page. If, for example, you had the same text in the footer of every page this is classed as duplicate content. Check your site and rewrite duplicated content so it is unique, delete it or turn it into an image. So make sure you don't have any duplicate content on your website and if you do, fix it up this weekend.
Recommended resource - http://www.siteliner.com/
6. Setup Google Analytics
This is free and can be such a huge help to understanding why you are or are not ranking well. Google Analytics helps you to identify what is and isn't working on your website (awesome for split testing), and gives you lots of information on your visitor's demographics and their buying behaviour. So if you don't have a Google Analytics account, make sure you sort it out this weekend.
Recommended plugin - Google Analytics for WordPress
So that's your weekend sorted, get on it!
If you do all of these 6 actions this weekend on your website, you should hopefully see a noticeable increase in rankings and traffic. For more information on SEO, social media marketing or internet marketing, contact us on 02 8097 7957, or complete our online enquiry form.